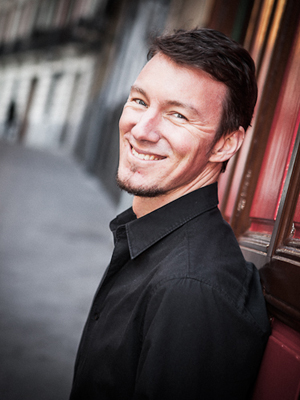 My name is Nygil Murrell and I'm the founder of Madrid Tours & Tastings. After growing up in Chico, California, and graduating from the University of Oregon, I started inching my way east.  I lived in Denver and then Boston, before making the jump to the Iberian Peninsula at the start of 2002, fulfilling a long desire to live in Spain. The plan had been to spend just a short time working abroad, but after my first wonderful year in Barcelona, I discovered Madrid.  The Spanish capital's inviting way of life, its culture, and the warmth of its people, made the decision to stay an easy one.  I also met my wife here, and although she's a Barcelona native, she reassures me that she loves Madrid as much as I do.
I was fortunate to turn my love and knowledge of Spain, and of Madrid in particular, into a profession, when I was hired to lead tours in Spain by Rick Steves Europe.  It's been an extremely rewarding job, which I continue to do.  It also allowed me to discover the country's incredible diversity, and created a passion for its exceptional variety of cuisine, its remarkable wines, and its compelling history.
My work as a guide, along with my own European travels over the past decade, motivated me to combine these different passions in order to share them with others by founding Madrid Tours & Tastings.
If you're looking for a personal, yet affordable approach to getting to know Spain's capital, its people, its history, its food & wine, as well as the contemporary issues shaping modern day Spain, think about doing a Historic Madrid Walking Tour, Gastronomic Madrid Tapas Tour, Madrid Wine Tasting or a Ribera del Duero Winery Tour!  As a local guide and certified sommelier with a focus on Spanish wine, I personally lead each of these tours and tastings, and in combination, they'll help you get the most out of your visit to one of Europe's liveliest cities through an amazing set of experiences.
My Madrid Blog
Madrid Tours & Tastings not only a company that offers walking tours, food tours and wine tastings of Spain's capital, it's also a very personal blog on Madrid and Spain.  The blog acts as a complement to the tours, and lets me chronicle life in España in a lighter, less structured way.  I write about a range of topics such as things to do in Madrid, contemporary life, local personalities, history, traditional shops, food and drink, wine reviews, and the odd excursion out of the capital.
All written text is mine unless otherwise noted.  All photos found within the blog pages, as well as the Photos of Madrid and Photos of Spain categories are also mine, while photos found on the Home page and the About page are by the talented Ms. Mimi Martín.  I also have Nathan Powell and Clever Consulting to thank for their hard work on the website.