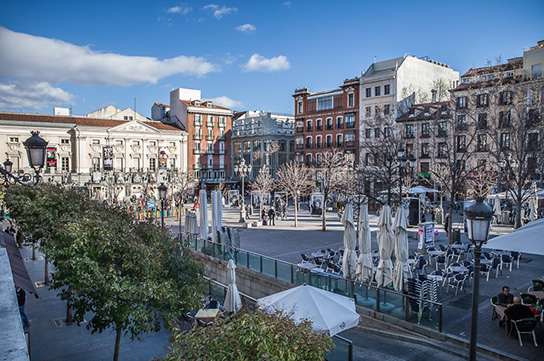 Historic Walking Tour of Madrid's Literary Quarter
Madrid's Literary Quarter – known as El Barrio de las Letras – is today one of the city's most enjoyable neighborhoods, whose tree-lined pedestrian streets slope downhill from Plaza Santa Ana, towards the famous Paseo del Prado, offering a blend of historic sites, local artisan shops, and a thriving bar and restaurant scene.
The neighborhood's formation dates back to the second half of the 16th century, when Madrid was made the permanent capital of Spain.  The city's population would quadruple within just 50 years, and due to lack of space inside the city walls, the construction of this neighborhood and others like it, took place just outside the walls.
This helps explain why the literary quarter was initially a scattering of poor houses, occupied by local artisans.  But this would change with the rising popularity of two open-air theatres built in the late 16th century.  The works premiered there contributed greatly to what later became known as El Siglo de Oro, or the Golden Century, when Madrid reached unprecedented heights in arts and letters that have never been equaled.
These theatres also played a crucial role in shaping the neighborhood and its inhabitants, creating a bohemian atmosphere of such roughnecks, that nightly plays often ended in fights between the actors and the audience.
The neighborhood's most famous resident was Miguel de Cervantes, author of the greatest Spanish novel ever written, known around the world simply as Don Quijote.  Both the writer and the book are remembered through different sights on this tour, which also includes one of the neighborhood's original theatres, El Teatro Español, still surviving in its 19th century form.
We'll also see Madrid's first modern restaurant, which dates back to the 1840's, as well as an artisan shop who carries on a time-honored craft done nowhere else in Spain (except Sunday when they're closed), a look at the neighborhood's prettiest hand-painted tiles dating to the 1920's, and one of Madrid's oldest continuously-run taverns, along with several other sites, over the course of two hours.
Reserve a Madrid Walking Tour or Ask a Question
The Barrio de las Letras Group Walking Tour is 15 Euros per person.  Tours take place on a regular basis at 10:00 am, as long as there are at least 8 people signed up that day.  To reserve a place on one of our Madrid walking tours, or if you have questions about the tour, you can get in touch via our contact form, call us directly at (+34) 620 883 900, or email us at [email protected]
Private Madrid walking tours, including half-day and full-day tours, are also available.  Please contact for details and prices.