Casa Pajuelo - The House of Honey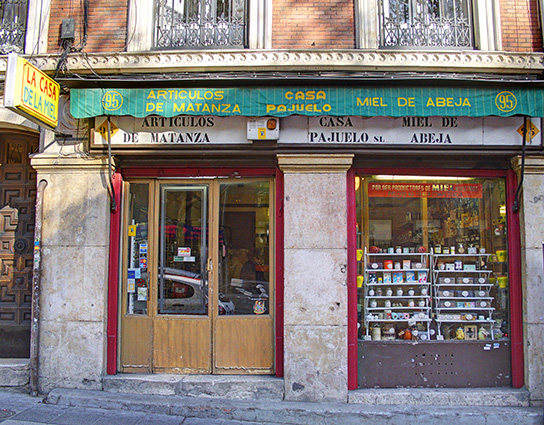 Half-way down the hilly part of Atocha street, behind a worn pair of wooden doors is one of Madrid's artisan honey meccas.  Casa Pajuelo may be the official name, but everyone knows it as La Casa de la Miel, i.e. The House of Honey, a second generation family business serving the neighborhood since 1946.
Spain is Europe's Largest Honey Producer
Few people know that Spain makes and exports more honey than any other EU country, accounting for a whopping 20% of European production from some 2.5 million hives.
While that quantity is impressive, it's the quality of Spanish honey that maintains the export demand.  Spain's diversity is behind the large variety of plants, whose pollen provides an important source of proteins, fats, minerals and vitamins, all crucial to the health of young bees.  This variety also makes for richer, more aromatic honey.
Those features are underscored by the dense, concentrated nature of Spanish honey, coming from its lower moisture content.  This is due much in part to Spain's hot, dry climate, owner Pedro Pajeulo told me.
And the best place to sample this delicious diversity?  The House of Honey of course.
The Non-Honey Origins of Casa Pajuelo
When Pedro's father – Pedro Sr. – opened the shop in 1946, honey was not even part of the inventory.  Rather, the shop specialized in supplies for cured sausage production, such as intestinal casings and spices, especially Spain's famed paprika from the family's native state of Extremadura, an essential ingredient of chorizo sausages.
These items were in high demand given that Madrid was still relatively rural, agriculture still eclipsed industry, and the city's outskirts were still populated with villages and farms who celebrated the annual pig slaughter.  Casa Pajuelo's location was ideal, as Atocha street was Madrid's main southern entrance, where villagers came to buy life's everyday items not found elsewhere.
The Fortuitous Honey Sale
In the 1950's, on one of Pedro Sr's trips to his native Badajoz for supplies, he learned of an extra drum of honey that'd gone unsold at the village market.  He brought it back to Madrid in his car – a 7 to 8h drive on rural highways – offering it to customers alongside the spices.  It sold out within a week, and Pedro quickly returned for more.  With time, honey came to outsell all other products and converted Casa Pajuelo into La Casa de la Miel.
At first, the honey came just from villages around Badajoz, but father and son would expand the selection to over a dozen different types from across the country, all of which can be sampled on-site today.  Just make sure to bring your Spanish dictionary along to make the right choice :-).  That and your own jar if you want to save a few pennies!
And while Pedro Jr. believes that Spain's appreciation of its own honey is growing, he admits that the Germans are the largest consumers and the "honey gourmets" of Europe, providing a profitable export market for Spain.
The most popular honeys are Milflores (honey of a thousand flowers), Azahar (orange blossom), and the famous Miel de la Alcarria from La Mancha, whose rosemary aromas are loved by uprooted Manchegos living in Madrid.  My personal favorite however is the dense, dark Bosque (forest honey), from the oak-tree hills north of Madrid.
Casa Pajuelo also sells seeds, dried legumes, and of course dried herbs and spices, including first-rate saffron from La Mancha, which all fuse together with sweet honey aromas to create an exotic perfume reminiscent of an oriental bazaar.
Artisan Honey 100%
Speaking with Pedro for over an hour, I couldn't write fast enough to get down all of the honey-related facts, myths and modern realities of the business.  This from a trained biologist who'd never planned to return to the shop where he'd worked as a boy.  "My goal was to escape!" he said with a laugh. "But family businesses have a way of drawing you back I guess."
Following Spain's entry into the EU, Pedro witnessed the mass cheapening of products to make them more competitive in the common market, leading him to reinforce the long-term relationships that Casa Pajuelo had with their small, local suppliers.
To this day, La Casa de la Miel sells only artisan unpasteurized honey from those same small producers.  By comparison, the pasteurized industrial version we find in supermarkets, has been heated up and homogenized to create a uniformly bland product, whose texture, color, and neutral aromas never change, and whose natural antibacterial properties are completely lost.
What's more alarming is that studies like this one for Food Safety News, showed that over 75% of U.S. supermarket honey has gone through such intense filtration, that not even the pollen remains, one of the most nutritious components.  This filtration also erases the honey's exact origins and disguises what other "additions" might have been made.  Scary indeed.
So go out and support local honey producers at home and abroad.  The world will be a better place for it.  And stop by La Casa de la Miel the next time you're in Madrid for a tasty souvenir!
________________________________________________________________
Casa Pajuelo a.k.a. La Casa de la Miel - calle Atocha 95.  Open Mon-Fri, from 9am-2pm, and 4:30pm-8pm, Sat 9am-2pm.  Metro Antón Martín (Line #1).  914 29 06 51.
________________________________________________________________
Looking for things to do in Madrid?  Get to know the city more in depth with a Historic Madrid Walking Tour, Gastronomic Madrid Tapas Tour, Madrid Wine Tasting, or take a wine tour of the Ribera del Duero region.
Last update: July 30, 2015