Abadia Retuerta Seleccion Especial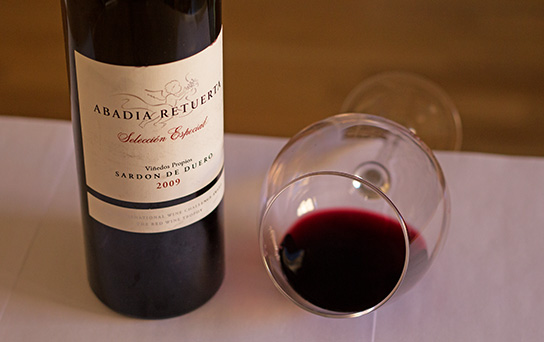 The story is an often-told one.  As a wine region, the now famous Ribera del Duero was practically unheard of just 30 years ago.  Back then, among the handful of wineries only the name Vega Sicilia was known to consumers outside the region, whose Único Gran Reserva is still one of Spain's most sought after cult-wines.
All of that changed in the mid 1980's, when a Robert Parker-praised vintage of Grupo Pesquera set off a building boom that saw the number of wineries increase tenfold.  One of the factors to success, was the use of Tempranillo - called Tinto Fino or Tinta del Pais in Ribera del Duero - to produce wines of greater concentration, body and fruit than the old school Rioja wines based on the same grape.
Abadia Retuerta & The Golden Mile
Abadia Retuerta was born during those boom years, first producing wine in 1996.  The complex is just two hours north of Madrid in Sardón del Duero, the heart of "The Golden Mile," a privileged strip of land home to some of Ribera del Duero's most illustrious names, such as Vega Sicilia, Pingus, and Mauro.
Unlike many of their neighbors however, Abadia Retuerta does not count itself among the 200 plus wineries grouped under the D.O. Ribera del Duero, choosing instead the more flexible land wine category, Vino de la Tierra de Castilla y León, a choice also made by Mauro.  As D.O. rules are stricter than the VdlT designation, this allows for more freedom on multiple levels, but especially when choosing grape varieties and the percentages included in the final blend.
The XII Century Abbey & Luxury Hotel
While the area's terrior was the driving factor in establishing the winery, the historical and natural setting must have proven equally irresistible.  The winery sits on 1700 acres that once belonged to the 12th century abbey of Santa Maria de Retuerta, giving rise to the winery's name.  Of those 1700 acres, around 500 are dedicated to vineyards, the sole source of Abadia Retuerta's single-estate wines.
In 2012, Abadia Retuerta took wine-tourism to new heights by opening LeDomaine, a 5-star luxury hotel located within the cloistered Romanesque-Baroque abbey, going to great lengths to preserve the original architecture and its surroundings.
Tasting Notes for 2009 Abadia Retuerta Seleccion Especial
Abadia Retuerta currently produces eight wines, mostly limited production varietal wines based on Tempranillo, Syrah, Cabernet Sauvignon, and Petit Verdot, with prices reaching 100€ a bottle.  It's their Seleccion Especial however that is the best introduction to the winery, and the one by which most wine lovers know them.
A blend of 75% Tempranillo, 15% Cabernet Sauvingon and 10% Syrah, the color depth is medium-high with a bright ruby rim promising lots of life.  Ripe dark blackberries and blackcurrants on the nose, followed by notes of butterscotch, vanilla, sweet spices and cedar that come to the forefront as the wine opens up.  If you're unsure what cedar smells like, a standard #2 pencil is a nice reminder.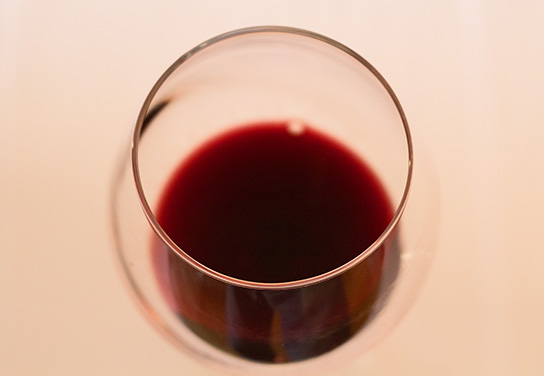 There's a bigger oak imprint here than with El Regajal, but swirling nudges those toasted notes to the background, allowing the berry aromas to steal the show.
On the palate it's a burst of tight-knit fruit, showing careful use of vineyard irrigation.  Each plot in fact has an independent drip system, a crucial part of the fruit-driven aromatics in many new world wines.  Layered just under that fruit are creamy notes of cacao and vanilla.
Given the higher color depth and 14% ABV, the wine is lighter than you'd expect, helped by higher than average acidity that makes for a bright, long finish.  Ripe tannins add grip and round out the structure.
In summary, this isn't a dense, overdone wine that will overpower whatever dish you're having, but rather one of refinement and precision.
Where to find Abadia Retuerta Seleccion Especial in Madrid
Abadia Retuerta Seleccion Especial typically retails between 18€ - 20€ a bottle.  In central Madrid, you can find it at the following shops:
Mariano Madrueño - A delectable century-old wine shop convenient for those near Puerta del Sol or Gran Vía. Open 10am-2pm and 5:30pm to 8:30pm Monday to Saturday - Calle Postigo de San Martín 3 - Tel. 917524880 - Metros Callao (Lines #3, #5), Sol (Line #1, #2, #3).
Casa Gonzalez - One of my favorite wine bars in Madrid, which also serves as a wine shop.  Found in the heart of Madrid's literary quarter, Casa Gonzalez offers a small but well-chosen selection of wines, many of which are sold by the glass, allowing you to try before you buy.  Open daily, 9:30am to 12am Monday to Thursday, 9:30am to 1am Friday to Saturday, 11am to 6pm on Sunday - Calle León 12 - Tel. 914295618 - Metros Anton Martin (Line #1), Sol (Lines #1, #2, #3), Sevilla (Line #2).
The department store giant El Corte Ingles has a supermarket and gourmet section that makes for one-stop shopping.  The lack of charm is offset by a wide selection and numerous locations, the two most convenient of which are the 9th Floor El Corte Ingles Gourmet Experience (with incredible views) in Plaza Callao 2 - Metro Callao (Lines #3, #5), as well as the basement level Gourmet Club supermarket on Calle Preciados 3 - Metro Sol (Line #1, #2, #3).  Open 10am to 10pm Monday to Sunday.
If you enjoyed this post, sign up here to receive email updates in the future!
_________________________________________________________________
Looking for things to do in Madrid?  Get to know the city more in depth with a Historic Madrid Walking Tour, Gastronomic Madrid Tapas Tour or a Madrid Wine Tasting.
Last update: May 10, 2016