El Regajal Selección Especial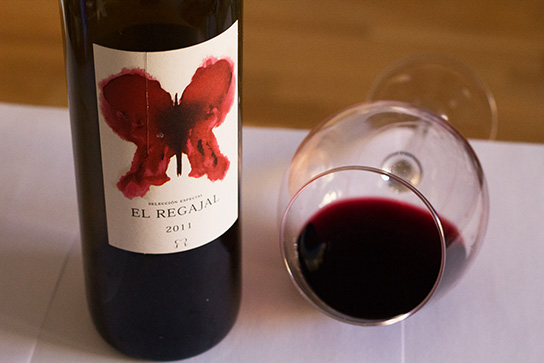 When asked to name a few Spanish wine regions, visitors to Madrid often come up with Rioja and Ribera del Duero, or possibly grape names like Verdejo and Albariño.  The very city they're visiting however is sadly never named.  Only a devoted drinker of wines from Spain would include the capital in their list, a fact tied to visibility rather than quality.
Which is why for this first look at Spanish wine, I've chosen Madrid's own Appellation of Origin, the D.O. Vinos de Madrid.  Unbeknownst to many, there is a thriving wine scene spread across the south of Madrid, and although it was unusual to order local wines not so long ago, that's finally started to change.
El Regajal Selección Especial 2011
Since obtaining my sommelier certificate earlier this year, I've been slow to add wine tasting notes to the blog.  Shame on me.  The birth of our first child and finding a new flat got in the way.  However, I plan to remedy that with the first of a series of wine reviews that will highlight Spanish wines I've tried, and that I thought might be of interest to you, dear reader.
Our first wine comes from the bodega or winery El Regajal, found in the Tajo river valley in the tranquil royal town of Aranjuez.  This wine gracefully bridges old world - think structure (acidity and tannins) and more subtle aromatics - and new world styles - think bold, full-bodied wines.  It is just as enjoyable as a complement to a hearty meal as it is on its own.
The wine's artistic label symbolizes the protected butterfly reserve where the winery is located.  To preserve the estate, the winery was built completely underground, with the first vines planted only in 1998.  Out of respect for the reserve, El Regajal doesn't use chemicals or unnatural fertilizers, though you won't find any boasting about this on the back label.
El Regajal Selección Especial is one of just three wines made by the winery, and is a blend of Tempranillo - Spain's principal red grape - Cabernet Sauvignon, Merlot and Syrah.  The grapes come exclusively from El Regajal's own estate, with each variety being cultivated, harvested and vinified separately, followed by an individual crianza or aging at the winery.  Each vintage is then tasted on its own to determine the percentage that will go into that year's blend.
Tasting Notes for El Regajal Selección Especial 2011
The wine's high color depth and beautiful ruby rim grab you immediately, brought out through maceration techniques during and after fermentation, extracting more chicha - as the Spanish say -  from each grape.
The nose is a bit closed at first, but with patience it opens up to medium intensity with primary aromas of ripe dark fruits and hints of licorice.  El Regajal successfully avoided that overly ripe, stewed plum aroma often found in hot regions like Madrid, where the extreme temperatures and early ripening of Tempranillo require adept wine making to maintain a wine's elegance.
After swirling, the results of its 13 months in French oak (mostly new) are easier to recognize, with a mix of sweet spices, as well as lactic and toasted notes.
With the first sip, you'll immediately notice great flavor concentration - this is not at all a thin wine - and the mix of aromas mentioned above come together in a well-knit package inside your mouth, carried further by the wine's length.
As for structure, although 15.5% alcohol is quite high by Spanish standards (or by most standards!) the wine is evened out by good acidity and soft ripe tannins, allowing the alcohol to add a warm mouth-feel, aided by silky glycerine that coats your palate and leaves those thick tears in the photo below.
For lovers of point scores, I'll include the following stats: Robert Parker's Wine Advocate gave El Regajal Selección Especial 92 points, and the Peñín Guide - the most important here in Spain - gave it 93.  Of course, those numbers can't predict whether you yourself will actually like the wine, but many find comfort in these kinds of stats.
In summary, this is a wine that will appeal to many different tastes, especially new world wine drinkers looking for an easy transition to a wine made in the old world.  It also shows that Madrid is capable of producing wonderful wines at very reasonable prices, and it would be a shame not to track this wine down the next time you visit Spain's capital.
In central Madrid, you can find El Regajal Selección Especial at the following shops:
Mariano Madrueño - A delectable century-old wine shop convenient for those near Puerta del Sol or Gran Vía. Open 10am-2pm and 5:30-8:30pm Monday - Saturday - Calle Postigo de San Martín, 3 - Tel. 917524880 - Metros Callao (Lines #3, #5), Sol (Line #1, #2, #3).
La Antoja - A charming delicatessen, convenient for those near the Reina Sofia museum and the Paseo del Prado. Open 11:30am-3pm and 6pm-9:45pm Tuesday - Saturday and from 12pm-3pm on Sunday - Calle Doctor Fourquet, 17 - Tel. 915276370 - Metros Atocha (Line #1), Lavapiés (Line #3).
The department store giant El Corte Inglés has a supermarket and gourmet section that makes for one-stop shopping.  The lack of charm is offset by a wide selection and numerous locations, the two most convenient of which are the 9th Floor Gourmet Experience (with incredible views) in Plaza Callao 2 - Metro Callao (Lines #3, #5), as well as the basement level Gourmet Club supermarket on Calle Preciados 3 - Metro Sol (Line #1, #2, #3).  Open 10am-10pm Monday - Sunday.
If you enjoyed this post, sign up here to receive email updates in the future!
________________________________________________________________________________________
Looking for things to do in Madrid?  Get to know the city more in depth with a Historic Madrid Walking Tour, Gastronomic Madrid Tapas Tour or a Madrid Wine Tasting.
Last update: July 30, 2014