The Joy of Eating at Prada a Tope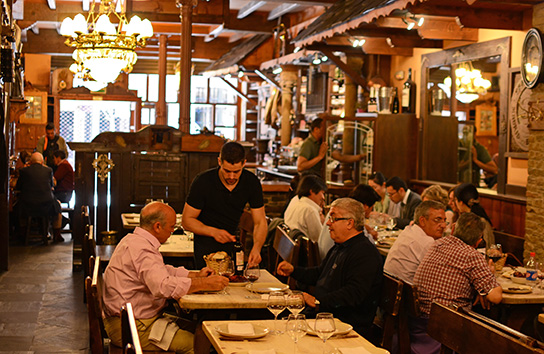 One of Madrid's greatest charms is the warmth and energy that permeates its bars and restaurants, perceived as much by visitors as by locals.
Another, is that visitors don't have to leave the city center to be surrounded by those same locals, they just have to know where to go, and more importantly, when to get there.
Prada a Tope, like many other Madrid restaurants, does indeed open for dinner at 8pm, but arriving that early means you'll never experience the come-one-come-all rollicking party that takes over the place most late evenings.  A place where complete strangers feel at ease sharing their food, their drinks, and even their gossip with the table next to them.
This rustic, bustling restaurant however is not just about hearty plates, good wine and friendly waiters, it's part of a much bigger story…
Prada a Tope - The Best of El Bierzo
Prada a Tope is the creation of Jose Luis Prada, an early enthusiast for the produce of his native El Bierzo, in the northwest province of León.  Back in 1972, at just 27 years old, Jose Luis grew tired of the growing industrialization of Spain's food system, and so he set out to start a small business that would promote and protect the artisan products of his youth.
That same year, he and several friends bottled their first 3000 jars of Bierzo cherries in aguardiente, a novelty at the time given the lack of monetary potential such products were thought to have.  These were followed by jars of roasted bell peppers, pears, and chestnuts that were peeled by hand.  By the early 80's this small business had grown into a larger store and restaurant.
That first restaurant is now one of eight located throughout central and northern Spain, including the one in Madrid, which opened 14 years ago.  All have been furnished with a warm blend of stone and wood brought from El Bierzo, recreating a berciano mountain home much like the 18th century Palacio de Canedo, that houses Prada a Tope's base of operations.
The Food of Prada a Tope
Given the company's expansion, it's even more amazing that all those original products are still prepared in the exact same way, following the same artisan methods as always.  They're then sold at the restaurant, where they complement the heartier dishes featured here.
Dishes that are straightforward, delicious examples of Spanish northwestern cuisine: Setas a la plancha - grilled oyster mushrooms doused with a parsley, garlic and olive oil dressing; queso zamorano - a raw milk sheep's cheese; tortilla guisada – a potato omelet served in savory tomato sauce, unique to the province of León.
However, it is beef in its two staring roles that elicits the most praise.  The green pastures of León have always been known for the quality of its beef, and the cured, lightly smoked cecina de león is the "Iberian ham" of the northwest.
Cecina comes from the hind quarters of mature cattle, but it is the rump cut specifically - and the one served here at Prada a Tope - that's considered the most flavorful.
And just because you start with meat, doesn't mean you can't end with meat.  Pictured above is the juicy entrecot de buey - a rib steak of ox meat.  Rib steaks shouldn't be confused with rib-eye steaks, which have less fat.  It is that line of fat on the edge that adds flavor and keeps the the rib steak moist while cooking.
Like most good restaurants, the waiters will suggest your meat be cooked "al punto" (roughly translated, to its perfect point), as seen in the photo.  If that looks unappealingly raw to you, ask for "hecho", which would be the next step up, although one step down in the flavor category…
The meat is then served alongside sweet and sour berciano figs, which are cooked in a sugar syrup and then sealed in Prada a Tope's own vinegar.  Beef and figs may seem like an odd combination until you take that first bite.
For dessert, although there's nothing very berciano or even Spanish about chocolate truffles, the ones served here are mouthwatering enough to merit a mention and a photo anyway!
The Wine of Prada a Tope
Prada a Tope's own wines are great partners for all the above dishes.  Although making wine was not one of the company's original activities, it became a natural extension of promoting El Bierzo's regional crops.  After purchasing the Palacio de Canedo in the late 80's, Jose Luis set about restoring the property's old vines of the red variety Mencia, as well as planting new plots of white varieties that included Godello and Chardonnay.
The medium-bodied, food friendly wines have shown well at national competitions, with the 100% Mencia Crianza winning a silver medal in the prestigious Bacchus awards in 2013.  Other wines worth trying include a crisp, dry and subtly aromatic white made from 100% Godello.  This same Galician grape is also paired with Chardonnay to produce Xamprada, an easy to drink sparkling wine pronounced "Champrada."
To finish off the night, a small shot of Prada a Tope's aguardiente de cereza or cherry liquor hits the spot.
And as if it couldn't get any better, owner Cristobal offers free on-site babysitting while you enjoy your meal.  Just don't tell him you heard that from me…
________________________________________________________________________________________
Prada a Tope - calle Príncipe 11.  Open every day, from 12pm til 5:00pm, and 8pm til the last customer leaves (roughly 12:30am on weekdays, a tad later on weekends.)  Metros Sevilla (Line #2), Sol (Lines #1,2 3), or Antón Martín (Line #1).  If not planning to arrive early, best to call ahead and reserve, especially on weekends: 914 29 59 21.
________________________________________________________________________________________
Looking for things to do in Madrid?  Get to know the city more in depth with a Historic Madrid Walking Tour, Gastronomic Madrid Tapas Tour or a Madrid Wine Tasting.
Last update: January 17, 2015