Rafael Palacios Louro Godello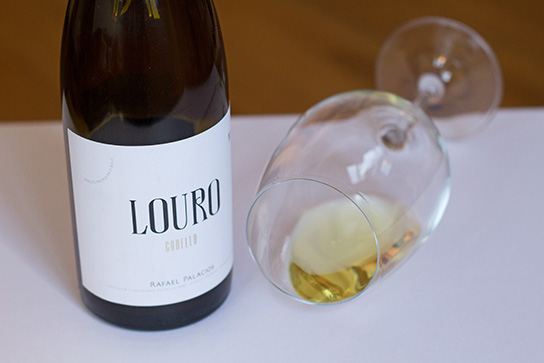 For Spanish wine lovers, it's hard not to be seduced by the story of the Palacios family. Don José Palacios Remondo founded the family's first winery in Rioja back in 1945.  Four of his nine children would follow in his footsteps, with two becoming leading figures of Spain's modern wine scene, spreading the family name throughout the country.
Álvaro Palacios of L'Ermita fame in Priorat is the most well known, yet his youngest brother, Rafael Palacios, has been creating excitement in a remote corner of northwest Spain over the last 10 years.
This isn't more high-profile Albariño, rather the lesser known Galician grape Godello (GO-DAY-YO).  Although Godello initially struggled for recognition outside Spain, that's starting to change thanks in part to winemakers like Mr. Palacios.
Valdeorras – The Heartland of Godello
The story of Valdeorras (#5 in green, top-left corner of the map below) and her flagship grape Godello parallels that of Rias Baixas and Albariño.  Both grapes were "forgotten" following phylloxera, losing out to high-yielding, low quality varieties like Palomino.  Yet both have made triumphant comebacks.  Just as Rias Baixas rediscovered Albariño, Valdeorras fell in love again with her native Godello.
As Galicia's easternmost region, Valdeorras, or "Golden Valley," is some 90 miles inland from the Atlantic-dominated Rias Baixas.  While the Atlantic still plays a role here, the mountains protecting her western side make Valdeorras more continental: hotter summers, longer autums, colder winters.
The Rise of Godello
The first modern Godello wines arrived in the late 80's and early 90's from bodegas like Guitián and Godeval, later on from Valdesil, all who still offer wonderful examples today, with oak at times playing a prominent role at the higher end.  It's been argued that Godello's less expressive aromas has allowed it to enjoy better results with oak, and several of Rafael Palacios' wines reflect that.
It was at Valdesil where Palacios first worked with Godello - following stints in France, Australia, and the family winery in Rioja - before finally setting up on his own in 2005. He'd become convinced of Godello's status as one of Spain's top white grapes, with the potential to make a refreshingly crisp, lightly-aromatic, dry white wine with good acidity but yet slightly more density that Albariño.
The vineyards that Palacios purchased - now farmed organically - range between 10 and 90 years old, planted on terraced hillsides at a minimum of 2,230 feet.  This altitude helps alleviate the warmer temperatures in summer, maintaining more of the grape's delicate aromas and freshness.
Tasting Notes for 2013 Louro Godello
Following a month-long harvest parcel by parcel, fermentation took place in 3,000-liter French oak foudres, with a very small % being new.  Cecilia Fernández, the on-site winemaker, told me that over the past decade they've come to better understand local yeast strains, and now prefer fermenting with native yeast rather than selected strains, resulting in longer fermentations that contribute more complex aromas and texture.  This is even more appealing with less aromatically-intense grapes such as Godello.
The wine was then left on its fine lees for four months, with battonage every 1-2 weeks during the first two months, adding warmth to the body, and aging potential to the wine.
The citrus-driven Treixadura grape forms 8% of the blend, and on the nose, that hint of citrus is followed by ripe apple, pear, and bits of fennel.  In the background, the lees-driven aroma of biscuits and baked bread, is complemented by subdued toasted notes from the oak foudres, all wonderfully low-profile.
While the wine is dry, the ripe fruit character adds meat to the body, which is both creamy and chewy, refreshed by bright acidity that strikes a beautiful balance.  As much as I enjoyed Louro now, I'll be excited to try it again in a few years when the oak is fully integrated, bringing all the pieces together.
Where to find Rafael Palacios Louro Godello in Madrid
Louro Godello typically retails for around 14€ a bottle.  In central Madrid, you can find it at the following shops:
Licorilandia - This iconic local wine shop has been serving the Neighborhood of Letters since 1964.  Despite its small appearance, it stocks over 3,500 references, cared for by the charming Palmira Alonso.  Open 10am-2pm and 5pm-8:30pm Monday-Saturday - Calle León, 30 - Tel. 914291257 - Metro Antón Martín (Line #1).
La Antoja - A charming delicatessen, convenient for those near the Reina Sofia museum and the Paseo del Prado.  Open 11:30am-3pm and 6pm-9:45pm Tuesday - Saturday and from 12pm-3pm on Sunday - Mercado San Fernando in Lavapiés Calle Embajadores, 41 - Tel. 915276370 - Metro Lavapiés (Line #3).
The department store giant El Corte Ingles has a supermarket and gourmet section that makes for one-stop shopping.  The lack of charm is offset by a wide selection and numerous locations, the two most convenient of which are the 9th Floor El Corte Ingles Gourmet Experience (with incredible views) in Plaza Callao 2 - Metro Callao (Lines #3, #5), as well as the basement level Gourmet Club supermarket on Calle Preciados 3 - Metro Sol (Line #1, #2, #3).  Open 10am to 10pm Monday to Sunday.
If you enjoyed this post, sign up here to receive email updates in the future!
*Photo of the Rafael Palacios vineyards courtesy of Urbina Vinos.
_________________________________________________________________
Looking for things to do in Madrid?  Get to know the city more in depth with a Historic Madrid Walking Tour, Gastronomic Madrid Tapas Tour, Madrid Wine Tasting, or take a wine tour of the Ribera del Duero region.
Last update: November 13, 2015