Pazo Baión Albariño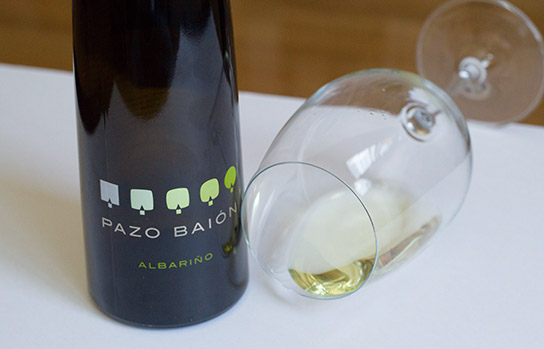 As Spain's most well-known native white grape, Albariño (AL-BA-REEN-YO) rings a bell to most white wine drinkers, even if its appellation D.O. Rías Baixas, does not. The fragrant, crisp, dry white wine produced by this classic variety has become increasingly popular over the past two decades, prompting winemakers from Napa Valley to New Zealand to plant their very own Albariño.
Yet Albariño's star status is relatively new. Much of her home region of Galicia was devastated by phylloxera in the late 19th century, and high-yielding, lower quality grapes replaced native varieties. In the late 1970's however, government incentives encouraged growers to refocus their efforts on quality wines made from Galician varieties like Albariño.
The grape's resurgence was aided by the introduction of modern wine-making equipment and expertise, paid in part by EU funds that came with Spain's entry into the union in 1986, leading to the quality wine scene we take for granted today.
Las Rías Baixas – The Heartland of Albariño
The mention of Las Rías Baixas – Galicia's lower estuaries – conjures up images of flooded coastal valleys, intense greenery, deservedly famous seafood, and cool temperatures, all heavily influenced by western Galicia's Atlantic climate.
A climate that unfortunately brings unpredictable summers, and even white grapes barely ripen in cooler, wetter years. As a native Galician variety dating back to at least the 12th century, Albariño has had plenty of time to adapt, developing small grapes with thick skins that ripen early. This combination also leads to a higher skin-to-pulp ratio, which further contributes to Albariño's aromatic potential, especially when pre-fermentation cold soaks are used by winemakers like Pazo Baión.
The Pazo Baión Estate – Then and Now
The word pazo refers to a style of Galician manor house that became popular between the 17th and 19th centuries, although Pazo Baión was given its current appearance in the early 20th century by a Galician émigré, returned home from Argentina where he'd made his New World fortune.
Although vineyards were always part of the estate, they wouldn't form an integral part until a Galician conglomerate bought Pazo Baión in the 1970's, planting the very first viñedo técnico of Albariño in Rías Baixas. This "technical vineyard," as the winery explained, was the first example of Albariño being planted with the goal of producing and marketing the wine on a large scale, with all the technical aspects that follow.
Previous to this, Galicia's minifundios – i.e. smallholdings – dominated grape growing, and as a result, wine was produced essentially for personal consumption. With the government incentives mentioned earlier however, Pazo Baión jumped at the chance to help start the Rías Baixas modern wine scene.
The property was purchased again in 2008, this time by the well-respected local winery Condes de Albarei, who converted Pazo Baión into one of Spain's most modern wineries, utilizing the estate's 40 year-old Albariño vines to make an incredibly elegant wine from this star variety.
Tasting Notes for 2013 Pazo Baión Albariño   
Pazo Baión's single-estate Albariño – the only wine they produce – is the fruit of eight distinct plots of vines, each benefiting from the diversity of local flora and contrasting orientations, spread out over 54 acres.
Once the best grapes are selected, they pass through an eight-hour, pre-fermentation cold soak, drawing out more aromas from those thick skins. Following fermentation in stainless steel, the wine remains in lees contact for roughly six months, with occasional battonage during the first three. This not only adds body and mouth-feel to the wine, it enhances the aging potential.
On the nose, the first fruit aromas are of ripe peach and apricot, tangerine and red apple, matched by a soft perfume of orange tree blossom, with citrus notes becoming stronger after swirling. This is an incredibly enjoyable wine to smell over and over again.
On the palate, warmer citrus flavors drive the wine, complemented by a saline minerality from Albariño's often racy acidity. While crisp, that acidity is kept in check by the rich, ripe fruit, and time spent on lees, both of which lend the wine a fuller profile than you'd expect for just 12.5% alcohol.
Although this is one of Spain's more expensive Albariños, it's an excellent example of what the grape is capable of. My only complaint, is that I wish it were easier to track down in Madrid's wine shops.
Where to find Pazo Baión Albariño in Madrid
Pazo Baión Albariño typically retails between 18€ - 19€ a bottle.  In central Madrid, the only place I've found it, is at the Corte Inglés Gourmet Club in Puerta del Sol, and at the Corte Inglés Gourmet Experience in Plaza Callao:
The department store giant El Corte Ingles has a supermarket and gourmet section that makes for one-stop shopping.  The lack of charm is offset by a wide selection and numerous locations, the two most convenient of which are the 9th Floor El Corte Ingles Gourmet Experience (with incredible views) in Plaza Callao 2 - Metro Callao (Lines #3, #5), as well as the basement level Gourmet Club supermarket on Calle Preciados 3 - Metro Sol (Line #1, #2, #3).  Open 10am to 10pm Monday to Sunday.
If you enjoyed this post, sign up here to receive email updates in the future!
_________________________________________________________________
Looking for things to do in Madrid?  Get to know the city more in depth with a Historic Madrid Walking Tour, Gastronomic Madrid Tapas Tour or a Madrid Wine Tasting.
Last update: August 2, 2014